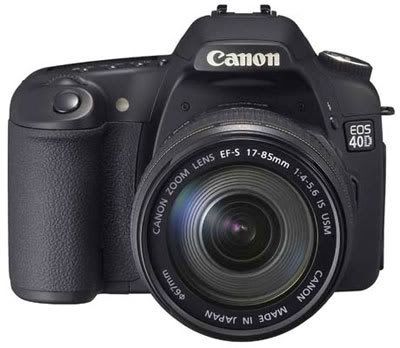 Looks like someone let the cat out of the bag a little early. So, when should we expect the 40D and what are the features?
First, this is speculation, however, it's a somewhat educated guess based on recent developments in the Canon EOS DSLR product line.
Expect the release of the Canon 40D to correspond with the official announcement at the PMA this year, March 8-11 in Las Vegas, NV. Almost every product cycle and release announcement corresponds with either PMA or Photokina (in the fall every 2 years). That said, I think most folks would now consider it a fact that the 40D will be announced/released shortly before or during the PMA show in March. However, I'd expect you'll be able to actually put your hands on one near the end of March or beginning of April.
Now the fun part – what's it made of? Given the release of the Canon Rebel XTi (400D for you Brits) last fall, I'd say at least a 10.1MP sensor is a shoe-in. Likewise, I'd also expect to see the DIGIC III processor along with some kind of anti-dust system. I don't know that we'll see anything bigger than the 10.1MP processor of the XTi due to the big brother 5D, which has 12MP (unless of course Canon is upgrading it too). Anything bigger than 10.1MP would likely under sales of the 5D – and yes, expect the traditional 1.6x crop factor to continue on Canon's prosumer line.
What we'd all really like to see is better noise control at higher ISOs. If Canon can push this a bit, it'll sell more of these 40Ds faster rather than folks picking up the 30D on clearance. Here's wishin' for it…
I'll keep you posted when I hear more.
More references to the 40D below:
Also, plenty of speculation and derogatory comments on the Canon EOS forum on Photo.net.